Thanksgiving marked the beginning of the biggest travelling season of the year for American motorists. AAA Texas estimated that 3.9 million Texans will travel 50 miles or more away from home this holiday week, a three percent spike over last year's Thanksgiving travel numbers.
During Thanksgiving weekend 2016, the Texas Department of Safety (DPS) issued 51,592 traffic citations and made:
275 driving while intoxicated arrests

198 fugitive arrests

141 felony arrests
This year, DPS troopers will be patrolling around the clock, trolling Texas roads for drunk drivers, speeders, distracted drivers, and others who are endangering themselves or other motorists.
The DPS offers these tips for safe travel throughout the holiday season:
Check the road report before you embark on a trip.

Make sure your vehicle is properly maintained and cargo is securely stowed.

Never drink and drive.

Decrease your speed in inclement weather, construction zones, congested traffic, and when travelling on unfamiliar roads.

Don't drive distracted – put your mobile devices away.

Wear seat belts – it's the law in Texas.

Don't drive when drowsy – pull over and rest and take your time reaching your destination.

Always practice defensive driving.

Plan your refueling stops ahead of time.
According to GasBuddy's Annual Holiday Travel Survey, Americans paid nearly 40 cents per gallon more for gasoline during the Thanksgiving weekend than they did last year, spending a collective $800 million more to travel during the 2017 Thanksgiving travel period.
Due to varying state tax rates, drivers sometimes spend as much as $25 extra for a one-time refuel, so they should pay close attention to prices and be aware of state lines when stopping. Because gas stations on a remote stretch of highway are often more expensive, if possible plan ahead and drive to the next town to find a cheaper station.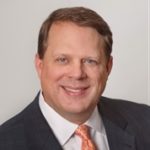 A trial lawyer for over 20 years, Bryan Pope is dedicated to fighting for justice while defending the rights of his clients. Bryan's influence often goes further—helping clients to navigate life-altering events and overwhelming grief. In addition to other areas of practice, Bryan specializes in helping sufferers of CRPS/RSD—a debilitating condition in which his in-depth knowledge enables him to lecture to other lawyers around the nation while also serving as a current chair for a CRPS/RSD organization.