At some point in your life, there's a good chance that you will be injured due to someone else's negligence. You may have to spend time in the hospital, miss work, or go to battle with your insurance company after your injury or accident. And you might think there's nothing you can do about it – that there's no way you can afford to hire a lawyer and hold the person who injured you accountable. But you can.
The purpose of a personal injury lawyer is to represent a client who has experienced an accident or injury because of someone else. They take all the work of a personal injury lawsuit off your hands, including gathering evidence for a possible trial, negotiating with insurance companies, and securing the highest possible compensation for medical bills, lost wages, pain and suffering and more. This leaves you free to focus on healing and recovery. 
Examples of common personal injury lawsuits include motor vehicle accidents, slip and fall, dog bites, injury on someone else's property, faulty products, and wrongful death. 
Every day on the radio, you hear ads for personal injury lawyers promising to get you thousands of dollars in a settlement. A simple online search will likely yield dozens of personal injury law firms in your city alone. But not all personal injury attorneys are created equal, and it's important to know how to find the one that's right for you and your family. 
What To Look For in a Personal Injury Attorney
When beginning your search for the right personal injury attorney, you may be overwhelmed by the choices. The easiest way to start is to ask family members, friends or colleagues who have worked with a personal injury firm for a referral. They want to help you, so their opinions will be as honest and unbiased as you can get.
Lacking this option, do some online research about firms in your area and narrow it down to a few that seem promising. And don't waste your time or energy interviewing too many attorneys. Just three or four interviews should yield someone you feel comfortable with.
You should go with someone whose firm has a helpful website with plenty of information about the individual attorneys – their areas of expertise, awards and certifications. There should be an easy way to contact the firm; many now feature a 24/7 chat for those who want to avoid a phone call. It's good to know the firm's history and what motivates its attorneys to win. Many websites also feature a link to customer testimonials, but you should also read unbiased client reviews online. Any reputable firm will also put you in touch with previous clients. 
Most personal injury lawyers have a specific area they specialize in and/or are passionate about, such as large truck accidents, dangerous drugs, medical malpractice or civil rights. Attorneys specializing in one area, especially those board-certified in that area, have a thorough understanding of the laws and legal procedures unique to your type of case.
You can ask your potential attorney to furnish a history of successful cases from past cases like yours. They should be happy to give you the names of past clients so that you can look up their cases in your local court database. 
A good personal injury attorney will not require payment upfront. These firms work on a contingency basis, meaning they only get paid out of a successful settlement. Attorney fees are generally a percentage of the gross settlement. 
Additionally, a good firm will always provide a free and confidential consultation. This is not only for them to decide whether to take your case but for you to ask as many questions as you want. 
The attorney-client relationship is very personal, as you will likely be working together for months or even years when preparing for a personal injury lawsuit. Listen to your gut, and always choose someone who makes you feel at ease and listens carefully to the details of your case.
What To Ask Your Potential Personal Injury Attorney
You should prepare for your consultation by making a list of questions to ask your potential personal injury attorney. Here are a few suggestions to get you started.
Will you be the person working on my case? Sometimes law firms have one or two people who handle consultations; if this is the case, ask to meet your assigned attorney and make sure there's a solid point of contact in the office when the attorney cannot meet with you personally. This person should be easy to contact, promptly return your calls/emails and keep you updated on new developments.
How much time/how many resources will you have for my case? Attorneys who seem too busy for you or have case files stacked all over their office will likely not have enough time to properly handle your case. Attorneys who seem to have too much time are also a red flag. Find a firm that falls somewhere in between, and ask what resources they can utilize for you (e.g., expert witnesses, established relationships with healthcare professionals, licensed investigators to gather evidence). 
Can you confidently represent me in court if necessary? Your chosen attorney should have a successful track record of large settlements and the skills, confidence and enthusiasm to try your case all the way to a trial verdict. 
What do you do beyond case work? You don't want to hire someone who does the bare minimum and works for the weekend. Lawyers who demonstrate care for their community by taking pro bono cases and/or sharing their expertise with others by publishing or speaking at conferences are usually willing to go above and beyond for a client. 
At The Cochran Firm Texas, we pride ourselves on our decades of experience in personal injury cases and our love for our community. If you live in Texas or Oklahoma and want to file a personal injury claim, or you just want more information but don't know where to start, one of our seasoned personal injury attorneys will point you in the right direction. Call us at 1-800-THE-FIRM (1-800-843-3476), contact us online or through our online chat 24/7 to get started.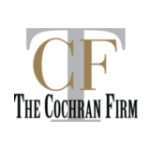 At Cochran Texas, we understand that needing legal help can be scary.  It doesn't have to be. We are a trusted leader in the legal profession and in our community. We know you are more than a case number. We get to know you as a person.  This allows us to offer a balanced and thoughtful approach to giving you the best possible legal representation. Our mission is to protect the legal rights of ALL people in our community. No matter your race, gender, background or income level you have a right to skilled legal help. Call us at 800-843-3476.