A driverless car may sound like something from the future, but they're here and rapidly growing in popularity. The industry is worth an estimated $24 billion worldwide, and self-driving car startup Aurora plans to bring its fleet to the Dallas area, which means Texas could become a significant player in the autonomous vehicle industry. While this is exciting news, it raises an important question: Who is liable if something goes wrong with a driverless car?
If driverless cars become the norm, we can expect to see a sharp decrease in car accidents. Research from the National Highway Traffic Safety Administration (NHTSA) shows that a staggering 94 percent of traffic crashes are due to human error. If humans are eliminated from the equation, it's reasonable to think that we'll all be safer on the roads.
Still, driverless cars aren't perfect. In 2018, a pedestrian was struck and killed by a driverless Uber car that didn't recognize her as human and couldn't stop in time. An investigation by the National Transportation Safety Board found that the car's driver was streaming a television show on her cell phone instead of watching the road, highlighting a significant concern with self-driving technology. In this case, blame was split between Uber, the driver, the pedestrian, and the state of Arizona. This shows you why answering the question of who's responsible if a driverless car causes a collision can be complicated. Even the NHTSA doesn't have a formal stance on liability. From the agency's website:
"These are among many important questions beyond the technical considerations that policymakers are working to address before automated vehicles are made available. We are still many years from fully automated vehicles becoming available to the public."
As the NHTSA notes, we are still a long way from fully driverless cars being available to the general public. It's important to remember that a considerable amount of research is still needed, especially when determining the liability of driverless cars. It's natural for us to want to know who's at fault after a tragic accident, but with so many factors at play — the manufacturer, the self-driving car itself, the technology, the human driver, and other vehicles on the road — it will likely be evaluated on a case-by-case basis. 
A study from Columbia University proposes using game theory to assign blame between lawmakers, manufacturers, and human drivers. The researchers point out that autonomous vehicles could cause drivers to grow complacent behind the wheel, much like in the Uber accident, and not pay attention to the road. If drivers know that they may shoulder some of the blame if an accident occurs, they may be more likely to pay attention while operating autonomous vehicles.
So the discussion of liability and driverless cars continues. Further research needs to happen within the industry to make sure protections and liability are clear so that someone is accountable if and when something goes wrong.
Expect the manufacturers to push for blanket immunity for any car crashes and for auto insurance companies to expect the same. Before driverless cars are allowed on our public roads, we must make sure the traveling public will be safe and that there will be accountability. Remember, when no one is accountable…no one is safe.  
If you have questions or need more information about liability when it comes to any kind of vehicle accident, feel free to contact the Cochran Firm Texas at 1800 THE FIRM (1-800-843-3476) or contact us now via our online chat.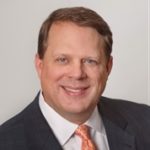 A trial lawyer for over 20 years, Bryan Pope is dedicated to fighting for justice while defending the rights of his clients. Bryan's influence often goes further—helping clients to navigate life-altering events and overwhelming grief. In addition to other areas of practice, Bryan specializes in helping sufferers of CRPS/RSD—a debilitating condition in which his in-depth knowledge enables him to lecture to other lawyers around the nation while also serving as a current chair for a CRPS/RSD organization.