Any accident that causes an injury or, in the worst-case scenario, death can have an extensive impact and sometimes change a person's life. It may affect a person's emotional health, work, relationships, and enjoyment of life. Personal injuries can also cause chronic health struggles, not to mention the immediate and future medical costs that add up quickly.
Getting the compensation you need and deserve after an accident is important, but it's difficult to do when recovering from a personal injury and the trauma associated with it. And yet, making an insurance claim and knowing your legal options to hold those accountable for your injuries is crucial.
Hiring a personal injury lawyer has many benefits, including the ability to help you navigate the legal complexities specific to your situation and handle negotiations with those involved. The right lawyer can alleviate stress so you can focus on recovering. If someone else's negligence caused your accident, a personal injury claim might be the only way you'll be properly compensated for the damages you've suffered.
Whether you were injured at work, in a car accident, on someone else's property, by a defective product, or in another type of accident in Texas, there are several benefits of hiring a Texas personal injury attorney to handle your insurance claim or lawsuit.
#1: Leverage Legal Expertise
The law is complex, and the average person doesn't have the legal knowledge to best represent their interests. Without this expertise, accident victims are unlikely to get the level of compensation they deserve – compensation they'd have a greater chance of receiving if a personal injury lawyer was fighting on their behalf.
An attorney with experience and in-depth knowledge of the relevant areas of law in your situation is necessary to get the best results. It's common for insurers and lawyers representing the other party, such as a business, to take advantage of the injured victim. They present low settlement offers, blame the victim for the accident, and pressure them to sign an agreement quickly. But if a Texas personal injury lawyer is there to step in and fight for your rights, their legal expertise levels the playing field.
#2: Perform Thorough Investigations at No Cost
A benefit of hiring a personal injury attorney is that they have the resources to conduct a proper and thorough investigation of an accident. Lawyers don't typically charge fees in personal injury cases unless the client settles or they win in court. However, personal injury lawyers invest a lot of money and time to create a strong case to ensure you're fairly compensated without guaranteeing they'll be paid. Personal injury lawyers have the incentive to do everything they can to get a positive outcome for their clients.
Legal teams do many things throughout their investigation, depending on the type of accident and resulting injuries. They will interview witnesses, hire experts, visit the accident scene to take photos and videos, gather medical records and bills, review police reports, and document everything related to the case. This process is critical when an accident causes severe or fatal injuries because the impact on the victim and their family can be devastating. The benefit of hiring a personal injury attorney in a wrongful death case or after a serious accident is that they will put forth the resources needed to conduct a thorough investigation.
#3: Negotiate on Your Behalf
Regardless of a company or individual's level of negligence in a personal injury case, whoever is at fault will try to pay as little as possible to the victim. The same can be said for insurance companies; they often try to convince those injured in Texas car crashes and other accidents that what they offer is fair when it rarely is.
It can be daunting to fight an insurance company on your own, but a personal injury lawyer can help. These attorneys are highly experienced negotiators who protect the rights of their clients when dealing with insurers or the other party's lawyers. Even if you decide to pursue a claim on your own, do not sign anything or give a formal statement to an insurance company before speaking with a personal injury attorney if you've been in an accident.
#4: Maximize Claim & Settlement Amounts
Another benefit of hiring a personal injury attorney is that they assess the many factors that affect how much compensation an injured client should seek. When you find the right lawyer, they will consider the circumstances of the accident and who caused it, the types of injuries, pain and suffering, medical costs, lost wages, and other aspects unique to the case. This helps quantify how much compensation someone deserves and proves why the amount is justified.
A personal injury attorney knows all the specific damages when determining a claim amount that most victims won't consider or think of. Why? An accident's emotional and physical impact can be overwhelming, and the legal intricacies are beyond the average person's scope of knowledge.
#5: Build Strong Cases
Fighting for fair compensation following an accident is challenging to do on your own. Insurance companies and large businesses have money and dedicated teams to fight personal injury claims and will typically try to get out of paying what's deserved. What is learned and documented during an attorney's investigation is guided by their experience and expertise; they know what evidence is needed to prove who's at fault and whether someone or a company was negligent. This is a clear benefit of hiring a personal injury attorney.
Once you agree to representation, your personal injury lawyer begins building your case, and they anticipate the other party's strategy and arguments when developing their own. While settling out of court is often best for all involved because it saves time, stress, and money, the work your attorney does prepares them for the possibility of a trial if an agreement can't be reached.
#6: Speed Up the Claims Process
When dealing with insurance companies, remember that they don't work for you. They may delay payment or process your claim slowly, but a personal injury attorney can handle these shady tactics and hold them accountable. During settlement negotiations, they're prepared with the evidence needed to demonstrate why you're entitled to a certain amount and how another party is liable for your injuries. This can also help the claims process move forward in a timely manner, which is another reason why you should hire a personal injury attorney.
Don't wait until you've recovered to move forward with a claim. The legal process and insurance claims take time, and an investigation should begin right after an accident to ensure crucial evidence is documented. The sooner you have someone fighting for you, the sooner you get paid.
Hire a Texas Personal Injury Attorney Today
There are many benefits to hiring a personal injury attorney. They'll fight on your behalf, handle communications with insurance companies and the other party's lawyers and use their legal expertise to ensure the best outcome for your claim. Consulting with an experienced attorney after you've suffered an injury due to someone else's negligence or intentional actions, you'll understand your legal options and be able to focus on what matters most: your recovery.
Given the statute of limitations for personal injury claims in Texas, you should speak with an experienced attorney as soon as possible following an accident. The quicker the attorney can review your case, intervene on your behalf, and begin an investigation, the better odds you'll have at getting proper compensation and justice.
The Cochran Firm Texas handles a wide range of personal injury cases, including car accidents, dog bites, defective products, slip and falls, and workplace accidents. We've helped countless clients receive not only fair but the maximum settlement amounts and jury awards for their injuries based on immediate needs and future considerations. Contact The Cochran Firm Texas online, email info@cochrantexas.com, or call 1-800-THE-FIRM (1-800-843-3476) for a free consultation.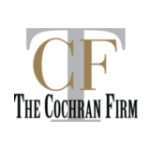 At Cochran Texas, we understand that needing legal help can be scary.  It doesn't have to be. We are a trusted leader in the legal profession and in our community. We know you are more than a case number. We get to know you as a person.  This allows us to offer a balanced and thoughtful approach to giving you the best possible legal representation. Our mission is to protect the legal rights of ALL people in our community. No matter your race, gender, background or income level you have a right to skilled legal help. Call us at 800-843-3476.