Fifty-four Texas drivers are part of a lawsuit filed against Durwood Greene, the company hired by the Texas Department of Transportation to perform roadwork on the Gulf Freeway.
One of the drivers, Heidi Hall, said the debris she encountered while traveling north on I-45 from Galveston to League City was something she'd never seen before—enough to crack a headlight and cause a chipped windshield. "There was so much debris on the road it started shooting at me, almost like pelting the car like bullets," she said.
The lawsuit claims that Durwood Greene failed to protect drivers by providing warning signs to let drivers know about the risk and potential for dangerous driving conditions. In response, the Texas DOT said that motorists traveling on I-45 Gulf Freeway who complained about road debris were referred to the contractor on the project, Durwood Greene, although the agency did work with the contractor to minimize impacts on the traveling public, "as our goal is always to improve safety in work zones."
According to AAA study released last fall, road debris caused more than 200,000 crashes and 500 deaths from 2011 through 2014 in the U.S. More than one-third of the deaths were the result of drivers swerving to avoid hitting debris, and in other instances, vehicles struck the debris and set off a chain-reaction of crashes.
Debris is considered a bigger hazard on interstate highways, which accounted for about one-third of the crashes. Some of the crashes involved common debris such as the remnants of a blown tire or broken tree branches, while others involved uncommon items such as furniture, appliances, and tow trailers landing in the road due to unsecured loads. Currently, every state has laws that make it illegal for items to fall from a vehicle while on the road. In Texas, creating road debris is a misdemeanor subject to fines of $25 to $500.
If you encounter road debris while driving, above all, understand that you could cause even more of a hazard to yourself and other drivers by either over- or under-reacting to the situation. The best way to avoid this is to be aware of potential hazards while you still have time to enact an appropriate maneuver—this is why you should keep your eyes on the horizon while periodically "scanning" the road's surface. The more you recognize hazards or the potential for one, the better prepared you'll be for avoiding them safely.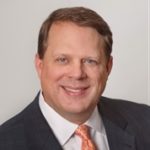 A trial lawyer for over 20 years, Bryan Pope is dedicated to fighting for justice while defending the rights of his clients. Bryan's influence often goes further—helping clients to navigate life-altering events and overwhelming grief. In addition to other areas of practice, Bryan specializes in helping sufferers of CRPS/RSD—a debilitating condition in which his in-depth knowledge enables him to lecture to other lawyers around the nation while also serving as a current chair for a CRPS/RSD organization.