A bill was filed in the Texas House this week aimed at creating criminal penalties for people who choose to text and drive. Former Speaker of the House, Tom Craddick (R) from Midland called this the "bipartisan bill of the session" as he laid the bill out in the Transportation Committee. The Committee heard emotional testimony from victims of distracted driving, including the sister of a cyclist who was run over and killed by a driver looking at his phone that was so distracted that "he never even applied the brakes."
Texting and driving has been banned in 39 states, including the District of Columbia, according to the Institute of Highway Safety. The bill would not ban hands-free devices or GPS.
About 11,400 crashes in Texas, including 82 fatalities, were caused by texts in 2011, said John Ulczycki of the National Safety Council, citing statistical estimates based on projections by the National Highway Transportation Safety Administration. Not only does driving and texting cause a tremendous human toll, it also costs the State's tax payers hundreds of millions of dollars. According to Ulczycki, texting-related crashes cost Texas $684 million in 2011.
The same bill was passed by the Texas House and Senate in 2011, but was vetoed by Governor Rick Perry who called it "government overreach."
At the time that Perry vetoed the bill in 2011, he said:
"I support measures that make our roads safer for everyone, but House Bill 242 is a government effort to micromanage the behavior of adults. Current law already prohibits drivers under the age of 18 from texting or using a cell phone while driving. I believe there is a distinction between the overreach of House Bill 242 and the government's legitimate role in establishing laws for teenage drivers who are more easily distracted and laws providing further protection to children in school zones,"
Craddick said that the bill creates an incentive for people to "put the phone down"
"You're infringing on my rights, to be truthful, when you're texting and driving, You're infringing on my right to be safe on the road."
Unfortunately, Perry has already indicated that his opposition to the bill has not changed in the last 2 years.
Sadly, it seems that Governor Perry continues to be more concerned about pleasing the anti-government Tea Party crowd than making sure that Texas drivers are safe from distracted drivers.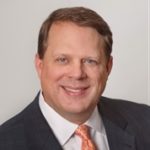 A trial lawyer for over 20 years, Bryan Pope is dedicated to fighting for justice while defending the rights of his clients. Bryan's influence often goes further—helping clients to navigate life-altering events and overwhelming grief. In addition to other areas of practice, Bryan specializes in helping sufferers of CRPS/RSD—a debilitating condition in which his in-depth knowledge enables him to lecture to other lawyers around the nation while also serving as a current chair for a CRPS/RSD organization.