Each year, distracted driving is the cause of hundreds of thousands of accidents nationwide. In Texas alone, there were 80,000 car crashes involving distracted drivers in 2020 – drivers who were talking, browsing, or texting on their cell phone, eating, reading, adjusting the radio and GPS, reaching for something, and even styling their hair.
Distracted driving is dangerous and costly. It's the number one cause of fatal car accidents in the U.S. and leads to serious short- and long-term injuries. But the risk of injury and death isn't equal for everyone who shares the road: Texas motorcyclists face greater risks from distracted driving than passengers and drivers inside vehicles.
Motorcycle drivers are at the mercy of their surroundings. They don't have the protection of a vehicle, its airbags, or seatbelt. Motorcycles are more difficult to see than cars and trucks, and many drivers don't make an effort to look for them. When dangerous distracted driving habits like responding to a text message occurs, it's even less likely that the driver will see a motorcycle or have time to react to avoid a collision.
Motorcycle Accidents in Texas
What would normally be a minor crash with two cars, such as rear-ending someone at a low speed, can cause serious injuries to motorcyclists and even be deadly. Almost 7,500 motorcycle crashes occurred in Texas in 2020, causing 1,856 serious injuries and 482 fatalities. What's worse, Texas motorcyclist deaths increased by 17% in 2020 compared to 2019, an alarming trend that reinforces the vulnerability of those on motorcycles and the dangers on highways and roads.
In certain situations, motorcyclists can avoid crashing into another vehicle, but there's still a wreck. For example, when a distracted driver drifts into their lane or runs a red light, it's common for the motorcycle driver to swerve out of the way to prevent a direct collision. As a result, many motorcycle accidents are frequently single-vehicle accidents. They don't make contact with another vehicle, but there are still legal options for the motorcyclist when this occurs.
The experienced motorcycle accident lawyers at The Cochran Firm Texas can help build your claim and seek damages when the other driver is at fault, including single-vehicle accidents and distracted driving cases.
Cell Phones & Distracted Driving
The National Highway Traffic Safety Administration (NHTSA) reported that approximately eight people died every day due to distracted driving in the U.S. in 2018. In Texas, anything that takes your attention from the road is considered distracted driving, with mobile devices being one of the most common distractions.
Distracted driving laws in Texas prohibit cell phone use while driving unless at a stoplight, and many cities have outright banned their use entirely. Yet, distractions from mobile devices continue to cause accidents across the state.
Safety Tips for Motorcyclists
No motorist can control what other drivers do. Whether someone is distracted, speeding, misjudges the speed of a motorcycle or fails to check their blind spot, the potential for serious injury or death is much higher for motorcyclists. In fact, data collected by the NHTSA shows motorcyclists are at least 25 times more likely to die in a wreck than passengers in cars.
With the prevalence of distracted driving in Texas and the vulnerability of motorcycle drivers, it's important to be extra vigilant on the road. The following safety tips can help motorcyclists protect themselves from distracted drivers and other dangers when riding:
Wear a helmet.

Use signals when changing lanes and making a turn.

Use your headlights to increase visibility.

Pay extra attention at intersections.

Stay out of other driver's blind spots.

Wear protective clothing.

Obey the speed limit.

Keep up-to-date on motorcycle maintenance.

Avoid distractions.
Given the small size of motorcycles, they're easy to miss, especially when combined with dangerous distracted driving habits. Texas roads and highways are overrun with drivers who frequently look away from the road to do something like reading or sending a text message. When this happens, motorcyclists are even more vulnerable, so obeying the law and being aware of your surroundings at all times is crucial.
What to do After a Motorcycle Accident
When a motorcycle accident occurs, it's important first to assess yourself and any passenger for injuries. If someone's injured, call 911. If not, get to safety. It can be highly dangerous to be on the road after a motorcycle wreck, especially with the rate of distracted drivers who might not be able to stop quick enough or avoid another collision.
Aside from personal safety, there are other steps to take when involved in a motorcycle crash. Texas law states that any collision causing injury or severe vehicle damage must be reported to the police. Even if you aren't harmed, calling the police can be helpful for accident claims because they'll have a record of the incident, including key details that could prove who was at fault and be integral in your claim.
It's also valuable to involve the police because injuries might not be immediate. Having an official record will be that much more important if symptoms emerge in the days or weeks following the motorcycle accident.
Write down the license plate of other vehicles involved in the crash, collect drivers' names, and get their insurance information. If there are witnesses, ask them to stay to give a statement to the police or gather their name and number for possible future testimony. Note important details, like where the motorcycle accident occurred, weather conditions, and road conditions. Take photos of injuries, vehicle damage, and the scene.
Make sure to inform your insurance provider of the wreck and know when to contact a motorcycle accident attorney to discuss your legal options. After all, the statute of limitations in Texas allows drivers just two years after a car wreck to file a personal injury lawsuit.
Contact a Motorcycle Accident Lawyer
While many accidents are caused by another driver's action or inaction, proving who's at fault can be difficult without a knowledgeable team handling your case. At The Cochran Firm Texas, we have extensive experience representing a range of motorcycle wreck cases, including those that involved an at-fault, distracted driver. Contact The Cochran Firm Texas at 1-800-THE-FIRM (800-843-3476), online or via our live chat for a free consultation.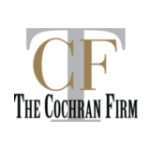 At Cochran Texas, we understand that needing legal help can be scary.  It doesn't have to be. We are a trusted leader in the legal profession and in our community. We know you are more than a case number. We get to know you as a person.  This allows us to offer a balanced and thoughtful approach to giving you the best possible legal representation. Our mission is to protect the legal rights of ALL people in our community. No matter your race, gender, background or income level you have a right to skilled legal help. Call us at 800-843-3476.