With pressure and financial consequences to make deliveries on schedule, it's no wonder semi-trailer truck drivers sometimes push and exceed posted speed limits. But a proposed federal rule would make that difficult.
What the Rule Would Require
The National Highway Traffic Safety Administration (NHTSA) and the Federal Motor Carrier Safety Administration (FMCSA) are making a coordinated effort to propose changes to the law that would require trucks that weigh over 26,000 pounds to be outfitted with a device that would prevent them from driving over a certain speed. The regulators are currently considering three proposed speed limits for the technology: 60, 65, and 68 miles per hour.
Trucking Industry in Opposition
The trucking industry is opposed to the new rule, saying that there is an abundance of evidence that shows why devices that are designed to keep trucks from traveling over a certain rate of speed isn't necessarily a good idea. But large truck crash statistics tend to support the rule change. FMCSA data has found that excessive speed contributes to more than one third of all traffic accidents, 23 percent of those involving large trucks. In 2014, semi-trucks and buses were involved in over 4,000 accidents.
A 2015 investigation conducted by the Associated Press found that 14 states have posted speed limits for big trucks that are equal to or higher than their tires were actually designed to handle. Most truck tires aren't meant to travel faster than 75 mph, and tire manufacturers say that traveling any faster than that may result in tire failure, blow out, and other safety issues.
The Positive Effects Are Far-Reaching
According to the FMCSA, there are many benefits to equipping large trucks with speed-limiting technology. "In addition to saving lives, the projected fuel and emissions savings make this proposal a win for safety, energy conservation, and our environment," according to a statement made by U.S. Transportation Secretary Anthony Foxx. Mandating speed-limiting devices could save millions of gallons of fuel and as much as $1.1 billion in fuel costs each year.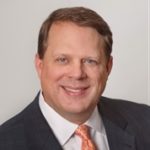 A trial lawyer for over 20 years, Bryan Pope is dedicated to fighting for justice while defending the rights of his clients. Bryan's influence often goes further—helping clients to navigate life-altering events and overwhelming grief. In addition to other areas of practice, Bryan specializes in helping sufferers of CRPS/RSD—a debilitating condition in which his in-depth knowledge enables him to lecture to other lawyers around the nation while also serving as a current chair for a CRPS/RSD organization.