The National Safety Council (NSC) is a hard grader, if the agency's new report that gives each of the 50 states a grade for its overall safety policies is any indication. My home state, Texas, has the dubious distinction of earning the grade of D.
Of course, the Lone Star State is not alone when it comes to a failing grade. No state earned an A from the NSC, and 26 states received either a D or F for safety overall. Eight states received a B, including Maryland, Illinois, Washington, D.C., Maine, Oregon, Connecticut, California, and Washington. The bottom five states—Wyoming, Arizona, Missouri, South Dakota, and Montana—each got an F in regard to their state's safety policies.
Risk Factors Examined
The NSC focused on three categories when giving states overall grades for safety: home and community, work, and roads. To award each state a grade for its efforts to promote road safety, the NSC looked at policy and legislation surrounding risk factors such as fatigue, alcohol use, seat belt use, speeding, and distraction, as well as state laws relating to children passengers, teenage drivers, drivers 65 and older, bicyclists, motorcyclists, and pedestrians.
According to the report, the lowest grades connected to alcohol-impaired driving were given to Montana and Michigan. Only four states, California, Texas, Louisiana, and New Jersey, were considered to be "on track" with their seat belt policies. The worst performers in terms of distracted driving were Montana, Arizona, Missouri, and Florida. States receiving passing grades for efforts to prevent speeding were Iowa and Illinois, and California was the leading state in regulating teen drivers.
Despite the state's D grade overall, Texas is one of a handful of states that the NSC determined to be "on track" regarding seat belt usage, with "developing" policies regarding distracted driving. However, in the categories of alcohol impaired driving, child passengers, older drivers, speeding, teen drivers, and vulnerable road users, Texas was determined to be "off track."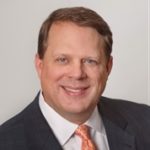 A trial lawyer for over 20 years, Bryan Pope is dedicated to fighting for justice while defending the rights of his clients. Bryan's influence often goes further—helping clients to navigate life-altering events and overwhelming grief. In addition to other areas of practice, Bryan specializes in helping sufferers of CRPS/RSD—a debilitating condition in which his in-depth knowledge enables him to lecture to other lawyers around the nation while also serving as a current chair for a CRPS/RSD organization.