Three types of distractions affect drivers on the road, and the most dangerous of those is texting, according to a paper published in August by the Center for Transportation Safety at Texas A&M University.
The study, conducted by researchers who partnered with the Texas A&M Transportation Institute, identified three types of distractions that commonly plague drivers:
Cognitive – when a driver's mind wanders and is not focused directly on the road
Emotional – driving while sad, angry, crying, or otherwise agitated
Sensorimotor – using your eyes, and brain to perform an activity, such as texting, while driving
While the researchers found that a sixth-sense appeared to protect drivers suffering from emotional distress or absent-mindedness, texting interfered with that sixth sense and caused deviations that are potentially important to safety, e.g., test subjects drifting out of their traffic lanes. Lane deviation was not apparent during cognitive or emotions distractions because instinctive motions automatically counterbalanced the drifting, according to the researchers.
Tracking Distraction
The study relied on a sophisticated driving simulator that allowed the researchers to control every aspect of the driving experience in real cars on a test track. Data collected was used to track heart rate signals (captured with wearable sensors) and perspiration near the nose (detected using miniature thermal imagers) were useful in tracking all forms of distraction. Since many drivers currently wear smart watches and exercise trackers that measure heart rate, this research may pave the way for universal sensing of distraction, said Robert Wunderlich, the Institute's director of the Center for Transportation Safety. He also added that the research "could ultimately help people to become safer drivers."
Coincidentally, Wunderlich was the principal investigator in the class action lawsuit against Toyota for unintended acceleration in certain vehicles. Part of the settlement of this class action was dedicating $30 million (the suit settled for more than $1.2 billion) to funding automobile research and education—including the above mentioned study on distracted driving. With such funding, we can hopefully better address this deadly behavior.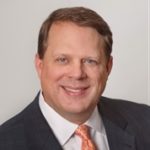 A trial lawyer for over 20 years, Bryan Pope is dedicated to fighting for justice while defending the rights of his clients. Bryan's influence often goes further—helping clients to navigate life-altering events and overwhelming grief. In addition to other areas of practice, Bryan specializes in helping sufferers of CRPS/RSD—a debilitating condition in which his in-depth knowledge enables him to lecture to other lawyers around the nation while also serving as a current chair for a CRPS/RSD organization.