In 2020 across Texas, people recognized the need to protect themselves by social distancing and wearing masks to stop the spread of COVID-19. Unfortunately, as they tried to keep themselves safe from the virus, they did not keep themselves safe in their cars by wearing seat belts.
Perhaps people were preoccupied with the pandemic, but Texans were off the mark when it came to seat belt safety, and it cost many of their lives. According to the Texas Department of Transportation (TxDOT), in 2020, 1,073 Texans were killed in car crashes while not wearing seat belts, an increase of 16 percent over 2019. 
Related: Why Are Traffic Deaths at Highest Level in 13 Years?
Texas was not alone and mirrored the rest of the country. According to an article in The Wall Street Journal, an estimated 38,680 people died in car crashes last year, an increase of seven percent over 2019, even though total miles driven dropped 13 percent as many Americans stayed home. At the same time, the number of unbuckled vehicle occupants killed in crashes jumped an estimated 15 percent from 2019.
Texas Seat Belt Laws
Ironically, some of the challenges to getting individuals to wear seat belts to protect themselves in car accidents are akin to wearing masks to protect against COVID-19. Some people balk at the government regulating aspects of their lives, even for public safety.
In March 1985, the Texas Senate passed a mandatory seat belt bill, and critics quickly objected to the mandate. Years later, the opinions involving personal freedoms concerning wearing a mask to prevent COVID-19 echo the opinions of long-ago opponents of seat belt laws.
Back then, former Texas Senator Chet Edwards remarked,"'I don't believe people should be mandated to wear seat belts. At some point, the government has to draw the line and say adults have to make decisions for themselves.'"
While some people may consider public safety rules like seat belt laws and mask mandates to infringe on personal freedom, the Texas government has operated with seat belt laws for the last three decades. Police officers can issue a ticket for non-seat belt use that could cost up to $200, and dozens of other states have similar regulations. In Texas, the seat belt law requires everyone in a vehicle to buckle up, and that includes kids. Children younger than eight years must be in a child safety seat or booster seat unless they're taller than 4 feet 9 inches and can wear a seat belt. If they aren't properly restrained, the driver faces fines up to $250, plus court costs.
Texas Seat Belt Safety Campaigns
In addition to traffic tickets, over the last 30 years, government leaders and safety advocates have relied on public campaigns for assistance to ensure drivers and their passengers follow the seat belt laws. The National Highway Traffic Safety Administration (NHTSA) has found that the combination of widespread adoption of state laws and public campaigns has helped increase seat belt use from less than 50 percent in 1990 to 90 percent pre-COVID.
Locally, the TxDOT started the Click It or Ticket program in 2002. Each May, the Click It or Ticket campaign educates and encourages seat belt safety in Texas. From the start of the program to 2019 (pre-COVID), the percentage of people using seat belts in Texas increased from 76 to 91 percent. 
While last year's numbers of fatalities show it is not a perfect system, the TxDOT continued with the program in 2021 and stressed that wearing a seat belt reduces the risk of dying by 45 percent for people in the front seat of passenger cars. Seat belts also reduce the risk of dying by 60 percent for those in pickups since pickups are more likely to roll over than passenger vehicles.
In addition, the NHTSA states that buckling up helps keep you safe and secure inside your vehicle, whereas not buckling up can result in being ejected from the vehicle in a crash, which is almost always deadly. Also, airbags are not enough to protect you. In fact, the force of an airbag can seriously injure or even kill you if you're not wearing a seatbelt. And finally, improperly wearing a seat belt, such as putting the strap below your arm, puts you more at risk in a crash.
The Cochran Firm Texas cares and encourages all drivers to buckle up. You can't control if you are in a car accident with an impaired, aggressive or distracted driver, but wearing a seatbelt can better protect you from car accident injuries and save lives.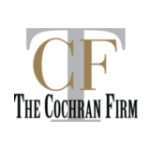 At Cochran Texas, we understand that needing legal help can be scary.  It doesn't have to be. We are a trusted leader in the legal profession and in our community. We know you are more than a case number. We get to know you as a person.  This allows us to offer a balanced and thoughtful approach to giving you the best possible legal representation. Our mission is to protect the legal rights of ALL people in our community. No matter your race, gender, background or income level you have a right to skilled legal help. Call us at 800-843-3476.